Located in the heart of Newtown, Favola is a purveyor of fine Italian pasta from Chef Fabio Stefanelli.
Photos by ALASTAIR BROWN
La Favola is located next to the Newtown hotel. Come join Chef Fabio as he serves and celebrates Italian pasta dishes while venturing into the uncharted territories of food with a fusion of native Australian ingredients and Italian sensibilities.
Phone
Location
170 King Street
Newtown, 2042
Hours
7 Days 5.30pm-10.30pm
Sat-Sun 11.30-3.00pm
OUR EVENTS
Keep an eye on our calendar for current and future events - we are always busy organising new meals just for you!
VOTE FOR OUR RESTAURANT, RATE OUR DISHES OR LEAVE A REVIEW ON OUR SERVICE HERE:
A mix of regional Italian foods await you. Come in store for our daily specials.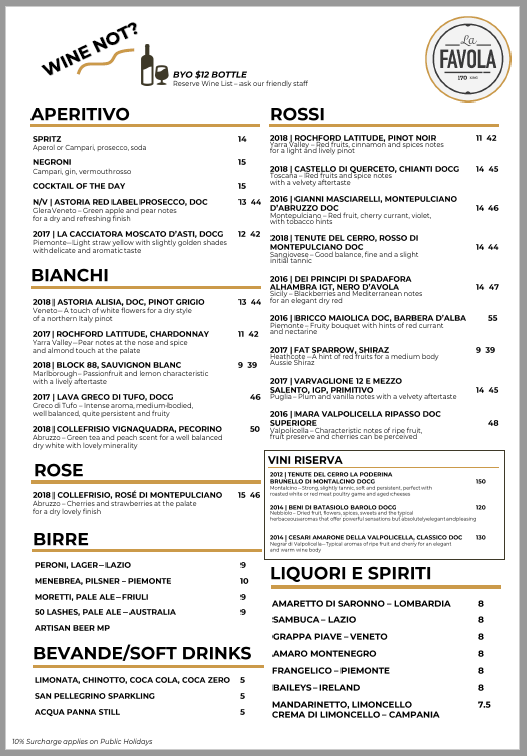 Enjoy our selection of wines, specifically chosen for their food-matching appeal.
La Favola gift vouchers are a very tasty way to offer that very special experience to someone you love or care about. The perfect gift for the perfect moment. Valid for 1 year from the date of purchase, make sure to book your table and come to enjoy a perfect Italian meal with us - Buon Appetito!
WHAT'S ON AT FAVOLA
Join our mailing list and get exclusive content on master classes and other events hosted at Favola.